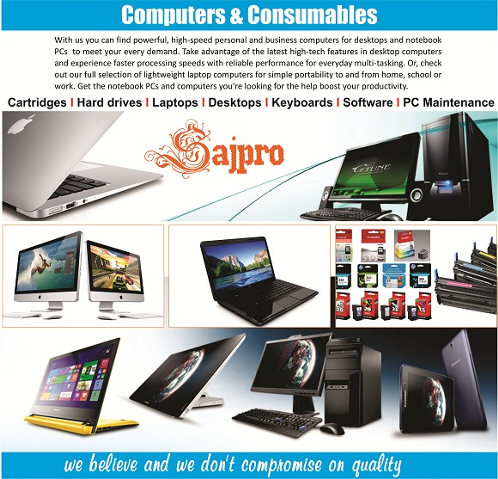 At SAJPRO, we have the office supplies you need to manage your workload and your day, so you can be at the front line of business. We're here to help you succeed with top, trusted brands of office products, technology and computer accessories that deliver the performance and quality that you deserve.
With us you can find powerful, high-speed personal and business computers for desktops and notebook PCs to meet your every demand. Take advantage of the latest high-tech features in desktop computers and experience faster processing speeds with reliable performance for everyday multi-tasking. Or, check out our full selection of lightweight laptop computers for simple portability to and from home, school or work. Get the notebook PCs and computers you're looking for the help boost your productivity.
From "green" office solutions to back-to-school essentials, we'll help you maintain a more organized office, classroom or home. We will supply you with wide range of brands and we supply you products of your specification. Discover how we can help you stay on budget and on schedule with our expansive office supply selection, and count on SAJPRO to be with you every step of the way. Work more productively with office technology solutions equipped to help you stay ahead of the game. From affordable ink, cartridges and toners to the latest software choices and brand name PCs to essential computer accessories, we have the latest technology to keep you moving forward.
Work with us today